Women in EU Finance Network
A conversation for women working in the EU financial services and investment policy arena.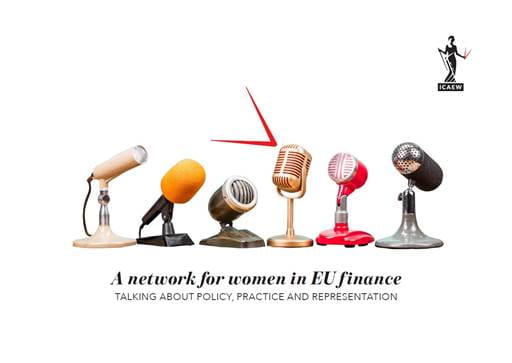 About the series:
The "Women in EU Finance Network" is an ICAEW Europe initiative to bring together professionals interested in gender equality in the EU financial services and investment policy arena. We organise regular events to help share success stories, discuss persistent challenges and drive change by strengthening the connections between women (and men) working in financial services in Brussels and beyond, irrespective of seniority.
If you would like to know more about this initiative, please do get in touch via europe@icaew.com.
Upcoming events:
Is sustainable finance gender neutral?
10 September 2019, Brussels
As the EU continues to take a leadership role in the field of sustainable finance, pressing ahead with the urgent transition towards achieving the Sustainable Development Goals, does the focus on green finance limit the attention paid to social and governance considerations, including where they impact women? We look forward to debating whether the EU's sustainable finance agenda needs a stronger gender perspective at our September Women in EU Finance Network breakfast in collaboration with Accountancy Europe. With keynote remarks by Mario Nava (Director, DG Fisma, European Commission).
Women in finance: Perspectives from across Europe
21 November 2019, Brussels
Join us for a special afternoon panel discussion with women leaders from the EU institutions and from across the continent as we discuss gender-related trends in financial services and explore the contributions being made by women in different financial centres in Europe. The event also celebrates the centenary of Mary Harris Smith, the first woman ever to become a chartered accountant and a member of ICAEW, in 1920. The event is organised in collaboration with the City of London Corporation Office.

To find out more and register email europe@icaew.com.
Past events:
2019
Supporting women's careers in the EU financial services arena
On 4 July, our Women in EU Finance Network met to discuss what can be done to help women get ahead in the EU financial services and insurance policy arena. With the kind support of the European Central Bank (ECB) and the Federation of European Securities Exchanges (FESE), participants engaged in lively conversation on recruitment policies and talent management while sharing best (and worst) practices. Conversations continued over networking drinks with our expert panellists; Anne-Sylvie Catherin (Director General for Human Resources, European Central Bank – ECB), Louise Harvey (Non-Executive Chair, FTI Consulting), Constance Kann (Director, Institutional Relations and Public Affairs, European Investment Bank – EIB) and Maria Demertzis (Deputy Director, Bruegel).
Is there a financial literacy gender gap?
On 19 June, ICAEW Europe and Intrum co-hosted the fifth Women in EU Finance breakfast exploring how adequate financial literacy underpins the ability of individuals to be effective participants in the economy and how it enables them to make informed financial choices. The discussion was informed by contributions from Anne-Françoise Mélot (Head of Unit – Free movement of capital and application of EU law, DG FISMA), Anna Fall (Chief Brand & Communications Officer, Intrum), Raymond Frenken (Head of Communications & Financial Literacy, European Banking Federation) and Diana Filip (Deputy CEO, JA Europe).
Closing the pension gender gap
On 26 March, ICAEW Europe and AGE Platform Europe co-hosted a Women in EU Finance breakfast focused on the role of the financial services sector in addressing the pension gender gap in Europe. Reflections on the scale of the challenge and potential steps to start tackling the gap were shared by Nathalie Berger (Head of Unit - Insurance and Pensions, European Commission), Anne-Sophie Parent (Secretary-General, AGE Platform Europe), Michaela Koller (Director General, Insurance Europe), Goedele Van der Linden (Director, Government Relations for Europe, Marsh & McLennan Companies) and Elisabeth Ottawa (Deputy Head of Public Policy, Schroders).
2018
Exploring gender issues in Fintech
On 27 November, ICAEW Europe and EY co-hosted a third Women in EU Finance breakfast exploring the role FinTech can play in fostering gender parity and making women part of the gender equation. The discussion was informed by contributions from Felicia Stanescu, Head of Unit, Financial Services Policy and International Affairs, European Commission, Ilona Gattung, Executive Director - EY Belgium, Patricia Boydens, Chief Commercial Officer, Harmoney / VP of FinTech Belgium and Christine Kiefer, Founder, Fintech Ladies.
The female voice in financial communication
On 17 October, ICAEW Europe hosted the second meeting of the "Women in EU Finance Network", bringing together women working in the EU financial and investment policy are to discuss gender issues in financial communication. The discussion informed by contributions from Letizia Lupini, Press Officer for Financial Services and Capital Markets Union, European Commission, Rebecca Christie, Writer/Journalist and Lynn Nicholson, Communication Director, Invest Europe.
Women in EU Finance – inaugural meeting
On 10 July, ICAEW Europe launched the first discussion in a new light-touch initiative to bring together women working on EU finance and investment policy. Following a debate during last year's Invest Week on how to encourage greater gender representation and awareness in financial policy, we hope the network will provide an informal platform to discuss related trends and regulatory developments while exploring the contributions made by (primarily) women in this area. The inaugural discussion was joined by Paulina Dejmek-Hack, Financial Adviser to the President of the European Commission, Kay Swinburne MEP, Vice-Chair of the Economic and Monetary Affairs Committee, and Chris Muyldermans, Counsel Regulatory Affairs, Corporate Public Affairs, KBC.